Membership Responsibilities
Ethical Practice
Due to a high level of public trust, RIMPA's members have an abiding obligation to operate ethically while serving the community and employers. The ethical practice entails:
Protect accountability

Protect and promote the public interest

Preserve records of continuing value

Maintain integrity at all times

Protect rights and privileged information

Support equitable and appropriate access to information

Maintain objectivity and independence

Competently administer duties

Satisfy employer and client responsibilities

Promote recordkeeping and information management.
Member Code of Professional Conduct and Practice
RIMPA requires its members to observe the highest standards of professional conduct and ethical behaviour. The conduct of each member reflects upon the records and information management profession and upon RIMPA's membership. By maintaining the standards set out in the Member Code of Professional Conduct and Practice (the Code), members enhance their standing as industry professionals and increase public confidence in the profession.
View the Member Code of Professional Conduct and Practice below.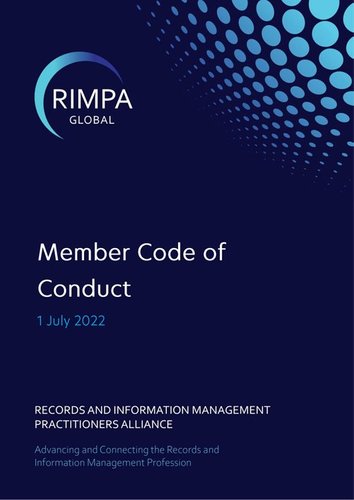 Click to view this PDF online
The Code sets out the appropriate standard of professional conduct expected from all members. The Code should be read in conjunction with RIMPA's Statement of Ethical Practice.