Jim Shepherd Vendor of the Year
The Jim Shepherd Vendor of the Year award recognises significant contributions to the records and information management industry and celebrates the vendor partners of RIMPA. Our vendor partners form the foundation of the opportunities provided to the RIMPA Global membership.
Awards - Jim Shepherd
A founding father and the first Branch Council President of the Queensland Branch, Jim Shepherd has been a proud member of RIMPA since its inception. Jim held many positions throughout his records and information management career and worked to bolster the connections with RIMPA and vendor partners through the delivery of seminars, development of advertising publications and connectivity through networking opportunities.
This award is presented to a vendor in recognition of both their support of RIMPA and of their services to the records and information management industry.
The process for nomination and assessment is performed through three steps: Eligibility, Gate 1 and Gate 2.
The vendor must be a RIMPA Global Corporate Member
The confirmation of Corporate Membership is performed by RIMPA Central Office
Eligible vendors are invited to complete the Gate 1 nomination process
Have sponsored a RIMPA event in the assessment year
The Vendor is to provide evidence of their RIMPA Support/Contribution, Industry Support and Knowledge Sharing against the listed categories in the online nomination form, with points being awarded for each category
The Vendor must obtain a minimum of 30 points in Gate 1
The 30 points must be spread across at least of two of the three categories
Gate 1 nominations are to be completed within three weeks to remain active in the nomination process
The judging committee will review the evidence and details provided in Gate 1 nominations to determine Vendors who will progress to Gate 2
The judging committee will notify the Vendors who will be proceeding to Gate 2 within one week of Gate 1 closing
Gate 1 closes 11 August 2023.
The Vendor will answer two questions on the online nomination form
Gate 2 questions are to be answered within two weeks to remain active in the nomination process
The judging committee will score each response and the evidence provided in Gate 2 using a merit-based assessment
Winner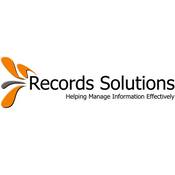 2023: Records Solutions
Records Solutions is an Australian-owned company, founded in 1994. Created BY Information Managers FOR Information Managers, our team of highly skilled and qualified staff provide records and information management solutions and services to public and private business sectors. We are a software neutral vendor, meaning our only concern when working with you is what is best for you.
The services we provide are delivered in accordance with a Quality Management System that has been developed in line with the principles of AS/NZS ISO 9001:2016.
Our aim is to always assist our clients in achieving the best possible outcome in their management of records and information while meeting the Australian Standard AS ISO 15489 and any other organisational, legislative, and quality requirements.
Previous Winners
2022: Opentext
2021: WyldLynx
2020: CorpMem Business Solutions
2019: Records Solutions
2018: Informotion Proficiency
2017: EzeScan
2015: Kapish
2014: iCognition
2013: Objective
2010: Objective
2009: Records Solutions
2008: Objective
2007: Recall Australia
2006: Objective
2004: Tower Software