iQ Magazine
What is the iQ?
iQ is the learned professional journal of the Records and Information Management Practitioners Alliance, with editions published annually. The publication contains peer-reviewed articles, industry news, case studies, member updates and articles related to the records and information management industry. iQ publishes work by many of the most eminent authors in records management in Australasia and overseas. IQ: The RIMPA Quarterly Magazine is available as an e-zine or hard copy depending on the subscription type you consider.
Members
As an exclusive member benefit, iQ ezine (online) is provided free to RIMPA members.
Hard copies are also available to members at an additional cost of $120 including postage (plus GST if applicable).
Non Members
iQ ezine is available as an annual subscription for AU$80.00 (plus GST if applicable), and hard copies for AU $120 including postage (plus GST if applicable).
---
Advertising Rates
Facts and Figures
iQ capturing records and information management news since 1984

4 editions per year: March, June, September and December

2200 plus member-based readership

Available in Ezine, PDF and hard copy

Publication is uploaded to the informit, EBSCO, National Library of Australia platforms which stores over 8 million records of expert-curated, peer-reviewed content.
2022 - 2023 Special Feature and Deadlines for Artwork and Articles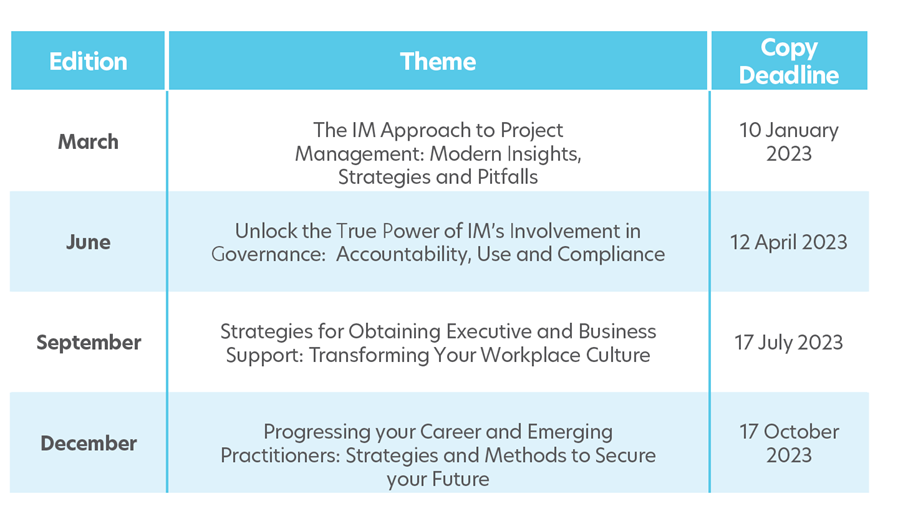 Display Advertising Specifications
** Please note: Quarter page advertisement can be either Portrait or Landscape.
Display Advertising Rates
Bookings for the same advertisement (content, image and size) to appear in 4 issues in any one year (financial or calendar) will receive a 10% loyalty discount.
Advertisements must be supplied in high resolution files in one of the following formats .JPG, .PDF or .EPS
A 5mm bleed is required on full page ads and on any ads where the colour goes to the papers edge (no border allowance).
Advertisers under a half page will be supplied with a PDF copy of the ad page.